MELTS, GLASSES, MAGMAS 2018
02.07.2018 – 06.07.2018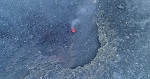 The 2018 edition of MELTS, GLASSES, MAGMAS will take place from Monday 2 July through Friday 6 July 2018.
The course will be composed by 15 hours of class, starting with the chemical and physical properties of silicate melts and explaining how this controls volcanic behaviour. After a material-based intro, the course will continue with the principles of experiments that can quantify the properties of pure melts and multiphase magma. Additionally, there will be 12 hours of lab tours introducing the participants into the plethora of experiments we are pursuing in Munich.
The maximum number of participants is limited, participation will be granted on a first come first serve basis.
Registration deadline is: 1 June 2018
The registration fee depends on the scientific status:
• Graduate students (75 €)
• PhD students (150 €)
• PostDoc students (300 €)
• Professors (400 €)
• Industry (600 €)
Payment can be done via bank transaction (in €) or via paypal.
Travel and housing arrangements are the responsibility of the participants. Please wait for a participation confirmation before booking train/flight/hotel/Air B&B ….
For more info: dingwell@lmu.de